Energy Minister Chris Bowen will meet with AEMO staff today and has offered the market operator his full support despite concerns about whether generators are gaming the system.
"AEMO was operating under the law of the land, and they were doing what they had to do. AEMO gets a lot of the credit for managing to work to keep the lights on and to keep the system operating," Bowen told ABC News Breakfast this morning.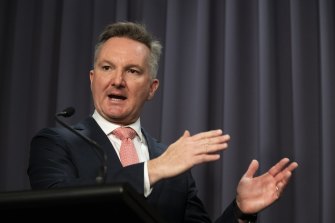 "They had to make a big call last Thursday and did so with my full support and the support of the state and territory ministers. I saw some ill-informed commentary from some in politics who don't know what they're talking about, but it's what we needed to do and the system worked. AEMO worked very well.
"I'm going there this afternoon, to AEMO, to talk to the staff who worked so hard over the last week or so to make this system work. It's been a tough situation, and it was a big call, but we will do what we have to do as a government. They will do what they have to do as an operator to keep the lights on. Consumers come first.
"We haven't had enough generation come on in the last decade to replace the generation that had to leave.
"There hasn't been a plan for the transition to renewable energy. We have enough storage. We'll fix that, but in the short-term, the job is to keep the lights on, and that's what we'll continue to be focused on."
Bowen said his government was committed to getting to 82 per cent of power from renewables by 2030.
"2030 – that's actually not that far away," Bowen told ABC News Breakfast.
"That's a big job to move it to 82 per cent renewables by 2030. It is achievable to have the emissions reductions and do our bit to reduce climate change which we were elected to do. We have to build 10,000 kilometres of renewable lines and the energy from where it is produced. And we have a big task ahead of us on storage.
"The deniers and delayers say that renewable energy is unreliable, but when you store it, it is very reliable. That's what we have to do. Very little of that has occurred in the last decade.
"We'll work with the states and territories to ensure that that is the case. "