Prepared by the Association of Book Publishers of BC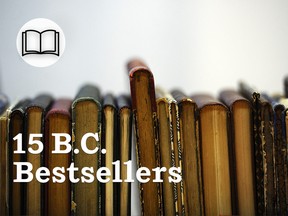 Reviews and recommendations are impartial and products are independently selected. Postmedia can earn an affiliate commission from purchases made through links on this site.
Article content
1. Return to Solitude: More Desolation Sound Adventures with Cougar Lady, Russell the Hermit, Spaghetti Bandit and others – Grant Lawrence (Havneforlaget).
Article content
Mushrooms in British Columbia – Andy MacKinnon Crook and Kem Luther (Royal BC Museum).
Be a good ancestor – Leona Prince and Gabrielle Prince (Orca Book Publishers).
4. Best hiking and nature walks with kids in and around southwest British Columbia – Stephen Hui (Greystone Books).
5. Framed in Fire: A Lane Winslow Mystery – Iona Whishaw (TouchWood Editions).
6. Sea Lion Legs – Roy Henry Vickers (Havneforlaget).
7. Whitewater cooks again – Shelley Adams Budd (Alicon Holdings).
Richard Wagamese Selected: What Comes from Spirit – Richard Wagamese (Douglas and McIntyre).
9. The Rooming House: The West Coast in the Seventies – Michael Kluckner (Midtown Press).
10. Luschiim plants: Traditional native foods, materials and medicines – Luschiim Arvid Charlie & Nancy J. Turner (Havneforlaget).
11. Forest Hiking: Discover the Trees and Forests of North America – Peter Wohlleben and Jane Billinghurst (Gråstensbøger).
12. Noonday Dark: A Doctor Annick Boudreau Mystery # 2 – Charles Demers (Douglas & McIntyre).
13. Drum from the heart – Pure Louie, illustrated by Karlene Harvey (Medicine Wheel Education).
14. Dempsey Bob: In His Own Voice – Dempsey Bob (Figure 1 Release).
15. Granville Island ABC: A Family Adventure – Alison Kelly, illustrated by Linda Sharp (Arvehuset).
– Prepared by the Association of Book Publishers of BC