Once upon a time, Adrian McKinty and his family were visiting a small island off the coast of Australia. It was hot, there was not much to see. The locals carried shotguns to hunt rabbits and seemed vaguely threatening. In a race to get back to the last ferry, their car nearly hit a woman on a bicycle, who appeared out of the blue. Still shaken, McKinty joked with his wife that if they had beaten her, they would never leave the island alive.
Locked up in New York, McKinty's current home, where he suffered from author blockade. On the phone, where he was chatting with his agent, Shane Salerno, he told him about their almost mishap. "You beat her," Salerno said. "It's the book."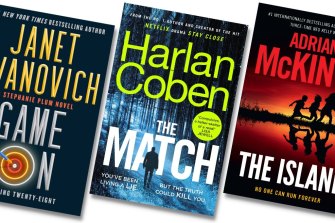 That's it, in fact The island, the second international bestselling thriller from the Belfast-born and former Australian resident, where an American family visits the Dutch island and chaos ensues. I saw McKinty talk about it via BAD Sydney's international online festival in one of four interview sessions with top crime writers. The others were Janet Evanovich, Harlan Coben and Mick Herron (the fifth session with Don Winslow was postponed).
They promoted all of their latest books, but also had a lot to say about their long and productive careers, which were by no means success stories from one day to the next. Before his breakthrough in thrillers, McKinty wrote six noir detective stories about his Belfast cop Sean Duffy, which was well received but never sold more than 2,000 copies in a year. Noir is still his favorite style: he can get the music-obsessed Duffy to shout about Bono or Robert Plant, and readers will stay with him. "But you can 't get away with it in a thriller."
Janet Evanovich credited her love of fairy tale history Joakim McDuck comics she read as a child. She started writing novel novels and switched to crime: "My goal was to write a book, sell it to the cinemas and become rich and famous. Now I am, but it took 25 years … The romance novels took 10 years to be published, I had this huge box of rejections. One was written in lipstick on a napkin. "
How does she get to her desk every morning at 5:30? "Wine helps."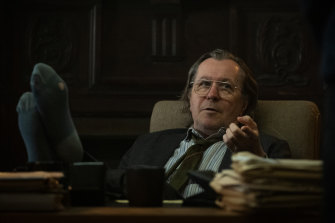 Harlan Coben revealed how he got the idea for the start of his new book, the fight. He was walking through the New Jersey woods when he noticed a boy of about five walking alone. He thought, "What if he came out of the woods and knew nothing but to live in the woods that go 30 years and he still has no idea, then there's a DNA match and he's standing across the street from his biological father's house? "
My favorite interview was with Mick Herron, who spoke with both wit and seriousness about his Slough House series of British intelligence novels that could no longer be removed from the world of James Bond.